Our story
Few words about us
The Lucky House was founded in 2002 by Régis Jacquet and has maintained an incomparable quality of service and cuisine in Bora Bora over the years. Locally recognized, frequented and recommended, The Lucky House never ceases to amaze with the excellence of its cuisine.
The Lucky House is also THE place for all major sporting events. Equipped with a widescreen 4k and most cable channels, you will not miss any sporting event during your vacation: Football, soccer, basketball, rugby, tennis, handball, Olympic games, etc... Everything is and will be there for you.
Explore Our Menu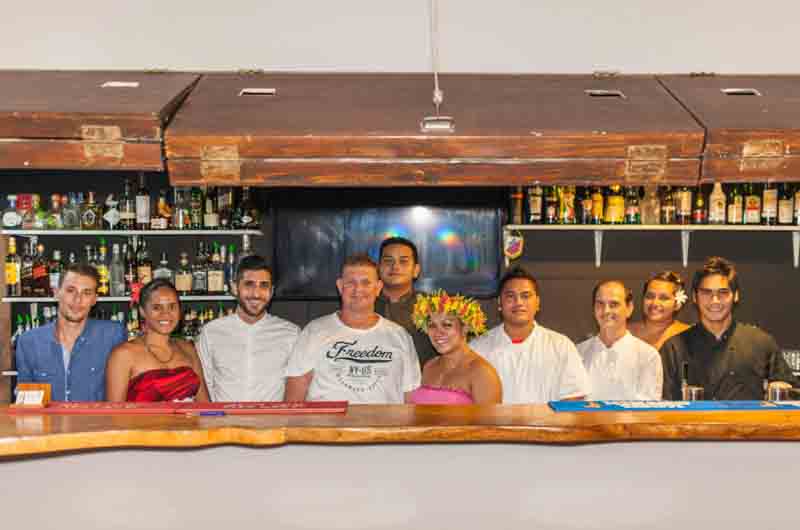 "What a beautiful little restaurant. It came highly recommended by one of our tour guides and we are so glad we listened. Food is the best we've had in Bora Bora , staff were friendly and the owner/chef came out and visited us several times during our time their. They have a great variety on their drinks list. I highly recommend the Lucky House Cocktail to any vodka lovers. Will be visiting this gem again before we leave."
KriddyS - Perth, Australia
THE LUCKY HOUSE
RESTAURANT & POOL BAR
Open Daily
Call For Reservations
Why people choose us
Prepare for first-class service
Daily New Fresh Menus
Start eating better
01.
Every day, for lunch, we offer one or more daily specials made with fresh products.
Fresh Ingredients, Tasty Meals
Quality is the heart
02.
We only offer fresh products and selected by us, caught or received the same day.
Creative & Talented Chef
Hot & ready to serve
03.
Our chef, of Polynesian origin, will know how to highlight the flavors of Polynesia mixed with those of other countries.
Read More About us

Special menu offers.
Enjoy Restaurants Specialties
with shallot, french fries.
02.
rib steak a la plancha
3 500 xpf
fries and green beans, sauce of your choice.
03.
Teriaki poultry stir-fry
2 900 xpf
mashed potatoes, bunch of vegetables.
01.

Trésor du Fare Manuia

3 500 xpf
Tahitian-style raw fish tuna, tartare, sashimi and carpaccio, rice.
02.

Poisson cru à la Tahitienne

2 500 xpf
Tuna marinated in lime and coconut milk, onion, carrot, cucumber, rice.
03.

Warm goat cheese salad

2 600 xpf
04.

Beef carpaccio

2 900 xpf
Balsamic vinaigrette, french fries.
01.

Warm chocolate cake

1 500 xpf
and a scoop of vanilla ice cream.
02.

Crème brûlée

1 500 xpf
03.

Profiteroles

1 500 xpf
with vanilla and coconut ice cream, whipped cream with hot chocolate sauce
04.

Café Liégeois

1 400 xpf
vanilla and coffee ice cream, cold coffee, whipped cream.
on her lentil salad with herbs.
02.

Tahitian shrimp stir-fry

3 900 xpf
accompanied by its vegetables and jasmine rice.
03.

Saffron scallops

3 900 xpf
shrimp risotto, Parmesan tile.
04.

Lacquered lagoon fish with Asian scents

3 500 xpf
with sweet mashed potatoes.
01.

Draft Hinano beer 50cl

700 xpf
02.

Tabu Vodka 33cl

900 xpf
03.

Cosmopolitan

1 600 xpf
vodka, triple sec, cranberry juice, lime.
04.

Frozen Strawberry Daiquiri

1 900 xpf
rum, cointreau, strawberry, sugar syrup.
View Full Menu
What said about us
TripAdvisor Testimonials
mapamelton
"Fare Manuia is literally just steps beyond the hotel Le Moana. Their food is delicious, and the service is wonderful. The prices are very reasonable. "
01.
73nilsr
"We come here many times during our stay on the island. The food - we only eat tuna here ;-) - is fantastic. Try the pizza Thon chèvre which is to die for. This is not the bora bora resort restaurant - and that is a compliment!!!"
02.
LizInTx
"We stumbled into this restaurant which is right outside the Intercontinental Bora Bora where we stayed. I did not expect much as it is a relaxed setting but let me tell you, the food is amazing! I highly suggest ordering what uncle Frankie suggests (or whatever the special is). Don't expect fast food, go to relax and enjoy a bottle of wine while you wait for fresh and delicious food. This was my favorite place in Bora Bora by far!"
03.
H1347JIjameso
"Great place! Heard the pizza was wonderful, and it didn't disappoint. So good we went back a second time during our stay. Uncle Frankie was great, very friendly, beer was cold, pizza was hot and delicious, food came out quick. What more can you ask for?"
04.
schneiks
"Stopped by here for dinner and was pleasantly surprised. Our waiter was hilarious and friendly, the patrons were all having fun, my fish was good and my wife's Italian/Polynesian special was unique and delicious. We liked it so much ended up going again for lunch and the pizza was excellent."
05.
About us